Forex Trading DOs and DONTs! Trading the markets may look easy but there are some rules to obey. In fact, having discipline is way more important than anything else, so creating your rules ad follow them is crucial. In this article, I will try to emphasize some important matters which will help you avoid common mistakes.
Like almost any other business model, successful Forex trading can be distilled to a few simple principles. Think of the likes of 'buy low, sell high' or 'pile it high, sell it cheap, the business 'plans' which have earned some people lots of money, but which are much more complex to apply in the real world than they appear when set down in black and white. After all, if they weren't, then there'd be a lot more millionaires around.
Practice
DO practice on a simulator before risking any actual money. There's always a chance that you might try working with the Forex market and decide it's not really your thing, or that the evidence in front of your eyes (you've just lost a lot of simulated money) is warning you to keep your wallet firmly in your pocket. At the very least, you'll get a feel for whether the Forex learning curve is one you're going to be able to climb.
Pocket Option Broker – 50$ Binary Options No Deposit Bonus USA Customers Welcome! Daily 250$ Binary Options Free Entry Trading Contest!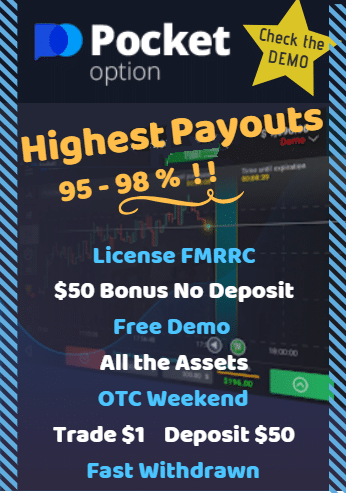 DON'T let emotions trade your judgment when deciding whether or not to make a trade. Every transaction has to be based on thought, analysis, and research, rather than a 'hunch' or feeling. If your instinct tells you to make a trade, do the research needed to back up this decision, and if the research doesn't back it up, tell your instinct to stick to picking your lottery numbers. Forex Trading DOs and DONTs
Patience
DON'T expect instant results. Forex trading is a long game in most cases and doesn't lead to instant gratification. If impatience tends to lead you to act impulsively, then Forex trading may be the wrong choice, at least until you learn to curb any tendency to rush things.
DO learn the difficult stuff. You've probably watched lots of news footage of traders shouting at each other, slamming down phones then quaffing champagne to toast their amazing financial gains. Success in the Forex market involves learning how to do things like study and interpret a currency pairs charts which, to begin with at first, will feel very much like that other thing you do. You know, work.
MORE
1. DO understand how leverage works prior to entering the markets. It is a great tool because it allows you to take positions much bigger than the availability in your account, but it can be a double-edged sword. As easy as you make money you can lose. So make sure you check your broker leverage, margin calls policy to know better when you will be taken out of the market.
2. DO set your stop loss and take profit levels before you enter the market. Most importantly, once set follow those rules and don't get obsessed with emotions. Even if the market hits your stop and recovers, you should be happy that you obeyed your strategy rather than moving your stop. I have seen cases where the traders hold losing positions and move their stops. That is a "no-no" in the Forex trading. Forex Trading DOs and DONTs
3. DO choose a broker offering tight spreads because this is how you save trading costs. If you use forex rebates this will add more pips back to your account.
DONTs of Forex Trading
1. DON'T get too happy and optimistic after the winning trades. Greed is your worst enemy. Either losing or winning you should give yourself a break once and a while to assess the situation and make well-informed decisions.
2. DON'T trade every day just because you have to. Emphasis on quality rather than quantity and you will see that well-informed traders are less stressful and time-consuming.
3. DON'T risk more than needed. It is called a risk-reward ratio and it is an important measure you should keep an eye on. In other words, think of it as money invested for money returned. It is clear that betting $100 for getting $2 is not worth the risk, no matter how sure you are of a positive outcome.
Final Words
Those three DOs and DONTs are just a small step towards your success as a forex trader. In fact the more you practice the better your trading decisions will become. Make sure you fully understand each trade you enter in and never leave everything to the chance. All of the brokers offer demo accounts so you can easily start trading risk-free and see if your trading strategy is good enough. You can start by opening a demo account – just choose one of the forex brokers listed on our site and click on the button Open a demo account.
Forex Trading DOs and DONTs